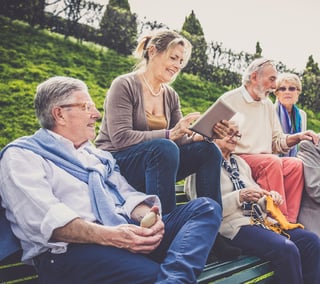 As the loved ones in our lives begin to age, it can become more difficult for them to be independent. Many seniors can develop health or memory problems that impede their ability to live independently, or continuing to live in their home has become a burden or physical task beyond their abilities. Whatever their personal situation, senior living communities offer older adults a place they can call home.
Related Blog: Talking to Your Parents About the Move to a Senior Living Community
Here are just a few of the reasons why living in a senior living community is a good choice for our aging loved ones:
Opportunities for Social Engagement
Depending on the type of assistance that your aging loved one needs, there are different communities to accommodate them. Whether it is an independent living community, an assisted living community, or a Life Plan Community, residents can socialize regularly in organized activities, take classes or just know that there is someone there to spend time with anytime of day. For some seniors who have been living alone in their home as their neighborhood friends have slowly moved away, this is a welcome change to their everyday living. Social engagement helps our loved ones stay healthy, socially, emotionally, and physically.
Step Up Care You Can Trust
As the primary caregiver of an aging parent, it is important that you know the community of caregivers of your aging loved one. When your loved one is in a place that provides step up care, you can get to know those who will assist your loved one at each stage as they age. It allows you to spend time meeting nurses, assistants and staff members to develop a trusting relationship and help assure you that they are in the right place. You will be able to see what care is like at each of the stages of care. Another advantage is that the transition for your loved one will be easier since they will maintain familiarity within their community.
Rest Assured Knowing Your Loved Ones are Taken Care of
Since many loved ones are coming from a single family home environment, they have been required to take charge or arrange for help with all of their cleaning, shopping, and driving. Residing in a senior living community means that there is a team of people who can help with all of these facets of daily living. Housekeeping and laundry may be provided, meal plan options are available, transportation to and from shopping or appointments is available, and of course, there is security. Let the community of experts help ensure that your aging loved one is taken care of all hours of the day.
Specialized Care When Needed
If your aging loved one is in need of specialized care, such as memory care, having a team of professionally trained staff is important to help make them feel safe and cared for when family members can't be there. This community of experts are well trained in understanding the nuances of Alzheimer's disease. Creating a feeling of calm and ease for memory care residents helps them develop, or redevelop, the sense of community they may have lost being on their own.
All of these communities together create an environment where families and aging loved ones can be confident of thriving socially, emotionally and physically. When you are looking or thinking about a senior living community, be sure to investigate all angles of care to be sure. Look forward to where your aging loved one might be in a few years and not just for their current stage of care.