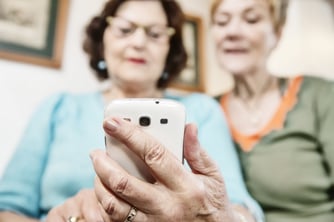 If you or a loved one resides in a senior living community, using technology including a smartphone, email and social media is a great way to connect with friends and family. Although using today's technology and being online may seem intimidating for seniors at first, it's actually easy to learn and provides access to new and interesting activities.
Related Blog: Grandparents Using Technology to Enjoy and Connect with Their Grandkids
Smartphone
Landlines are still a great way to stay connected, but the majority of people today have a cellphone or smartphone. From voice-to-voice calls to video calls to texting, smartphones offer seniors an avenue to communicate with friends and family across any distance. Best of all, organizations and many senior living communities offer classes to show seniors how to use smartphones and tap into all of the useful, fun and educational apps.
Email
Writing letters and sending them through the mail has its charm, but today, email is a much faster way to communicate. Seniors can still write letters to their friends and family, but they type them up on their computer, tablet or smartphone and send them along, no postage required! Another great aspect of emails is that you can attach digital photos from recent outings or share images of your residence decorated for a holiday and keep loved ones connected to your daily life.
Social Media
Perhaps one of the best and fastest ways for seniors to connect with friends and family is by using one or more social media platforms such as Facebook, Twitter or Instagram. The benefits of using social media to connect with others are numerous and include:
Staying in touch: Social networks and the pictures, videos and updates people share give seniors a visual and audio way to stay in touch with family and friends and stay informed of current events. They can also find old friends from school, make new friends with similar interests and connect with children and grandchildren who may not have time to call or email regularly.
Research: Browsing the internet is a great way to research favorite topics and so is social media. Seniors can join groups, follow organizations and learn more about their surrounding community. It is also a great unique way to connect with your favorite companies, rather than calling them. Many businesses are active on social media and are quick to respond to any questions or comments their customers may have.