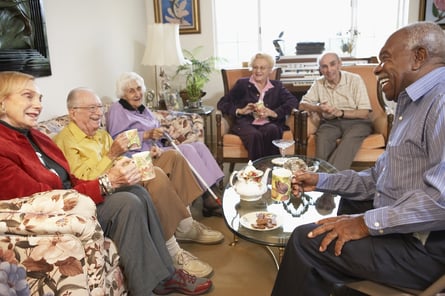 As your loved ones grow older it can take a toll on their social life. They might not be as strong as they once were. Their mind also may not function with the same clarity. In such a situation you need to make sure that they do not become isolated through the following methods:

Related Blog: How to Make the Most out of Your Visit to a Senior Living Community
1. Make Transport Available
Sometimes, the reason for isolation can be as simple as not having the means to travel to places of interest. Make sure your loved ones have some means of transport on hand, and in case they are unable to operate the vehicle on their own, have someone nearby who is qualified to drive them places.
2. Make Friends with Neighbors
Talk to their neighbors about any special circumstances that your loved one might be suffering from or that need to be kept in mind in case of emergencies. Most people are kind and helpful when approached in a friendly manner, and are as happy to make new friends as you are.
3. Hold Regular Night Outs
Don't let your loved one stay at home alone for long periods of time. Set some time apart as often as you can every month to get your loved one out of the house and around town. This will give them a chance to socialize with people outside their circle, and see new sights and sounds which can add novelty and excitement to their lives.
4. Look into Retirement Community Options
There are many options available, including assisted living and luxury retirement communities. These options can give your elderly loved ones a place to live that have all of the comforts they need, as well as allowing them to interact with other people that may share the same interests and life experiences.
5. Independent Living
You can also hire a caregiver to take care of your loved one which allows them to stay at home and live a self-sufficient life. The caregiver can provide them with friendship while also providing care to them, and prevent any feelings of loneliness or isolation.
By following these tips, you can ensure that your loved one does not become lonely and isolated. Instead it's a time for fresh beginnings and for enjoying the company of their friends and family.