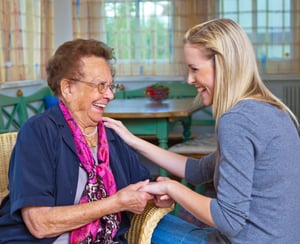 A senior living community may be your best option if you find that living alone is becoming a burden, either because it takes too much effort to clean, cook, and maintain your house or simply because you'd like to live somewhere you have more opportunities for social activities. Each individual will have their own criteria for choosing the right community. There is no one-size-fits-all checklist that is guaranteed to help you or a loved one find the right facility. Even so, choosing the right setting is extremely important. In order to make the best decision, you should be sure to visit a senior living community in person before deciding that it is the one.
Related Blog: 5 Benefits of Living in a Senior Living Community
You will use your visit to evaluate the community first hand. Each community is unique, but there are certain common standards and services that are offered. Keep the following in mind when visiting senior living communities:
Cleanliness
Do the facilities give you an overall impression of being clean and sanitary? Make sure to be thorough in your examination of the premises. Find out how often the personal living spaces are cleaned and ask about laundry services.
How Friendly is the Staff?
The attitude of the staff is one of the most important factors in a resident's quality of life. Try to observe how the staff members interact with residents. Find out how many members of staff are involved in a resident's care. Confidence in the facility's staff is essential.
Meals and Nutrition
The dining experience is an important part of life at a senior living community. As a part of your visit, you should have a meal there so that you can assess the quality of the food and evaluate the options and dining procedures. You may also get to meet and interact with some of the community's current residents.
Find Out About Personal Care
Ask about personal hygiene options and pay close attention to the condition of the residents. Observe whether they are clean-shaven and whether their nails are clean and their hair is properly groomed.
Talk to Residents and Their Families
Find out from residents and their families what they think about the community. Many senior living communities will make it easy for you to get answers to your questions.

Moving to a senior living community is a major decision. Make sure that you have a full understanding of all the factors so that you will be able to rest easy with your choice.
To find out how Sarasota Bay Club can help you make the most of your retired years, contact us today to set up a tour.