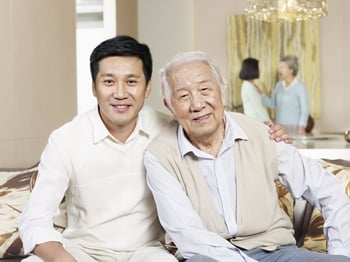 Your parents spent their whole lives working or providing for the family and community in some way. While the idea of life after retirement is a dream for many of us, the realities that come with aging can be harder than we realize. If it is time for you to help your parents transition to a senior community, consider these advice offerings:
Related Blog: 10 Fun Facts about Sarasota Bay Club

Make sure they're 100% sold on the community
Have open discussions with your parents to ensure that you understand what they're looking for as they're shopping for a senior living community. It is important to pay attention to both the things they're looking for and the things they're specifically disinterested in. Once they've narrowed their list, revisit the needs, wants, and attributes that were to be avoided. Any doubt should be removed at this point, so open a forum for dialogue if you sense hesitations. You want them to be happy in their new home for a long time, and that starts with making sure they're not settling.

Find a reputable Realtor
Many aging parents are homeowners who will no longer need their current home as they transition to a senior community. Your parents might be planning to pass their home to someone in your family, but more commonly, the current home will be put on the marketplace. You can be a great asset in this respect by researching vendors to find a reputable expert to assist them through the sale process. If they have lived in their home for an extended period of time, the value has likely changed significantly over the years. Employing a reputable real estate agent will help ensure they get the most money for their property as they move on to the next phase in their lives.

Include their friends and the rest of the family
The people closest to your parents can help them navigate this change. They are more likely to confide in some than others about their fears, anticipation, and excitement, so it only makes sense to bring everybody together. This will let your parents know they've got your support and that you're looking for ways to make this a happy and healthful relocation.

Would you like to speak with someone who can answer your questions regarding your parents' transition to a senior community? Attend an informational luncheon at Sarasota Bay Club, and let us help you through the process.