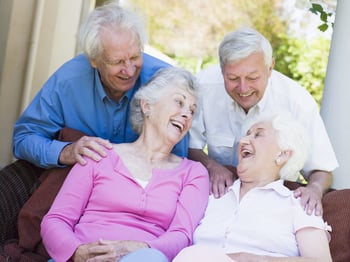 You work your whole life so you can enjoy not going to work, but for some people, the reality of retirement can be a tough pill to swallow. Work has become a place where you mix and mingle, socialize and shoot the breeze from time to time. Don't worry; a social life after retirement does exist!
Related Blog: How to Improve Your Lifestyle Through an Independent Living Community

Here are some simple ways to help you maintain your social life after retirement when the work days are officially done:

Do what you love to do
Throughout life, you have acquired some hobbies and interests that will play a pivotal role in your social life after retirement. Each of your interests, no matter how big or small, is an opportunity to embrace and enhance your social circle, especially when you move to a senior living community. Find groups that have similar interests, and join in on a meeting or two. For example, if you love reading, try a book club. If you enjoy sewing, seek out a group that works with needles and thread. Rec centers and retirement communities often offer easy access to like-minded people with pre-planned events and outings. Online sites such as meetup.com are great options for today's world, too, and most are pretty intuitive and easy to navigate after a visit or two.

Learn something new
In some cases, you might have wanted to learn a new skill for a long time and just didn't have the time. Have you always wanted to create pottery or learn how to play pool? Now that you've retired, you have plenty of time to delve into all of these desires. Keep in mind that there's a whole world of possibilities out there, and you may have interests that you aren't even aware of yet. Keep your mind and eyes open for opportunities to learn interesting things you haven't yet discovered. Behind every undiscovered opportunity is the chance to enjoy the moment with a new friend.

Commit to the effort
Whether you're trying to stay connected with old friends or make new ones, you'll need to commit to the effort. It can be easy to become complacent, so take the time to reach out and talk on the phone and schedule visits with your favorite people. Don't talk yourself out of new experiences, and follow through if you've found something that looks interesting. Moving into a senior living community is a great way to socialize with people with similar interests and hobbies.

Sarasota Bay Club is the perfect place to enjoy a social life after retirement. Contact us to learn about the possibilities!