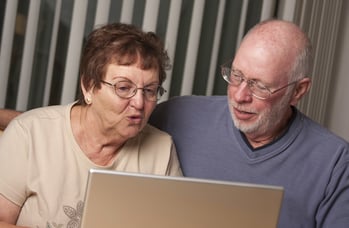 As a grandparent, it's only natural for you to be curious about what your grandkids are doing. Social media is the ultimate tool for staying up to date with all your friends and loved ones. Here are details to keep in mind about using sites like Facebook to find out the latest news about your grandkids.
Related Blog: Grandparents Using Technology to Enjoy and Connect with Their Grandkids
Understanding New Technology
One thing that all generations have had in common the past century is that each new generation has found a new way to communicate through electronic technology. Despite common misconceptions, this is not a result of "generation gap" attitudes that kids don't want to be like their parents or grandparents. A more accurate explanation why technology keeps changing is that's the nature of industrialized capitalism: to keep innovating and expanding in new directions.
Embracing Social Media
Social media can best be understood as a potentially convenient method of communication anytime from any location. It allows you to express your voice to a world of selected friends. If you are new to Facebook, it's essential to respect the community you select by not posting text or images that would embarrass or upset individuals whom you care about. Facebook is like an online diary that people share with their neighbors.
Why Social Media Builds Relationships
Many times kids simply are so focused on playing with friends rather than communicating with elders, that they don't spend much time with their grandparents. Facebook helps you connect with people without bothering them at any given moment. If your grandkids happen to be online the same time you are, then that's an opportunity to connect in real-time. Otherwise, each party gets to view the message on their own time as it evolves.
By reading people's posts, you can learn about their daily activities, but also their inner thoughts as well. In that sense, it's possible to learn more about a person than in a face-to-face conversation.
Sharing Old and New Image
One of the most attractive qualities of Facebook is that it allows you to share photographs and videos. It's a perfect communications tool for building a family album full of photos from various eras. You may want to share pictures of when you were a kid, just to remind your grandkids that you were once young and someday they'll be seniors. It also gives you a chance to see the most recent pictures of your grandchildren.