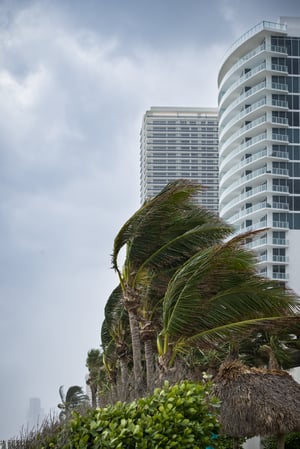 Living in the Sarasota, FL area for retirement can become pure luxury and like paradise when the weather cooperates. Yet, once hurricane season hits, things can occasionally take a turn for the worst. It's all the more reason to pay attention to hurricane preparedness as we enter another season of being a potential target.

Related Blog: 9 Valuable Storage Tips for Senior Citizens in Sarasota, Florida
When living in a retirement facility, it might become more challenging preparing for hurricanes without others helping.
Nevertheless, everyone can do their part in preparation. Take a look at these five essential steps to preparedness so you can literally weather the next hurricane to avoid true disaster.
Know What Your Vulnerabilities Are
In a hurricane, everyone is vulnerable, though some have more vulnerabilities than others. You need to analyze what yours are. Find out whether you need to rely on others to help you prepare, what kind of structure you live in, and what kind of survival kit you've put together.
Those of you who may live in a retirement community may need to make sure those responsible have knowledge on how to keep your living quarters safe. They should know exactly what your biggest issues are during disasters in where you live and your own health.
Having a plan ready to go to either stay put or escape should be ready to use when a hurricane becomes overly serious.
Plan for Locations Away From Home
If you definitely have to vacate due to being directly in the eye of the hurricane, you want to find a place to go where you can live for a while. Should you go directly to a friend's house, or live with a relative?
The place you go to may have to become a temporary place of home until your community can rebuild. When considering your emergency location, think about whether it has all the amenities you need to live normally until you can go back home.
Safeguard Important Documents You May Need Later
Hopefully you already have a safety deposit box for important legal documents. You may need these for insurance purposes after the hurricane passes. If nothing else, buy a safe to place your most valuable items.
Many of these safes are made to withstand disasters from hurricanes to fires. Even if you have to evacuate, a weatherproof lockbox will likely withstand even the most ferocious winds and rain.
Some other documents you need to prepare in advance should include medical records, financial information, and even educational records to prove your identity when rebuilding.
Health Considerations
Being an older person, you need to prepare to keep your health in order if living in a disaster area from a hurricane. You should have a backup plan to gain access to your medications, including finding vital information on safeguarding yourself from impending diseases in your local region.
Always refer to the Centers for Disease Control website where you'll find numerously good resources on how to prepare. On their page, you'll even find a multimedia kit based on how people prepared for health considerations after previous major hurricanes.
Emergency Supplies
We alluded to your emergency kit in Step 1. What does that kit look like? Does it give you everything you need to survive for at least a couple of weeks if you're stranded here in Sarasota?
Always have a battery-powered or wind-up radio to use for news alerts. Also have a food kit ready. You can do this on your own if you're living in a retirement facility by storing away canned foods and bottled water.
Have a first-aid kit as well so you can tend to any wounds from being hit by debris due to high winds.
Visit us at Sarasota Bay Club to learn about our luxury retirement community and how we prepare for hurricanes each year.