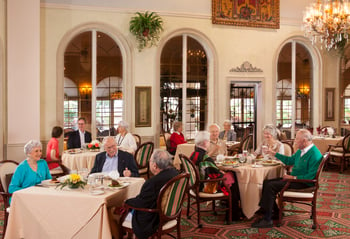 If you're a senior who is independent and active, you can enjoy several benefits when you choose to live in a luxury independent living community. Residing in an engaging retirement community full of active, social seniors can improve the overall health and well-being of older adults as your golden years fill with positive experiences. Best of all, living in a luxury independent living community offers a level of safety and assistance otherwise unavailable to seniors living at home.
Related Blog: Luxury Retirement Communities in Sarasota and What They Offer

Maintenance-free living
Maintaining a home and property becomes increasingly difficult as you age, but with luxury independent living, you can enjoy amazing landscaping, high-end amenities and beautiful interior design without the responsibility of daily upkeep. Although as a resident you are responsible for your personal furnishing and belongings, you no longer have to worry about mowing the lawn, fixing major appliances or dealing with the other unexpected issues that arise during traditional home ownership.

Social life and activities
Having a social life and regular activities is a vital part of life for all ages and for seniors, it may even help reduce the risk of developing Alzheimer's disease and other dementia. In an independent living community, you can enjoy your favorite hobbies as part of a club, engage in planned activities with other residents and take interesting trips into nearby towns and cities for cultural events and entertainment.

Included utilities
At a luxury independent residence, many of your utility costs are included as part of your monthly payments. This is a wonderful benefit considering that you can own your residence without having to worry about tracking your monthly utility bills.

Luxury amenities
Home ownership is time-consuming and exhausting. At a luxury independent living community, you can enjoy fitness centers, pools, gyms, spas, billiard tables, massage therapy, private dining, and so much more within easy reach of your residence. Luxury independent residency is like spending every day at an all-inclusive resort.

On-hand assistance
Although luxury independent retirement communities do not offer the same doctor and nursing care as an assisted living community with 24/7 staff, they do help if an emergency arises. Living alone can be a stressful experience as you grow older and fear falling or having an accident with no one to immediately help you. Making the move to a luxury independent living community designed with the needs of seniors in mind, improves the safety and stability of your daily life .

To schedule a visit with Sarasota Bay Club and see how it could be the right fit for you, contact us today! We'd be happy to set up a free tour and luncheon.