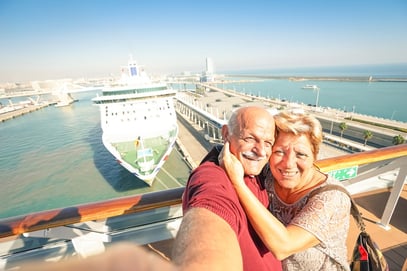 If you want to travel more now that you are retired, you have plenty of options to consider. Many retirees enjoy the all inclusive amenities cruises offer. But if you've never planned a cruise before, you might not know where to start. Here are a few questions you might have when planning a cruise.

Related Blog: Things you Should Research Before Moving to a Senior Living Community
How Long Do You Want to Be Gone?
Since you are retired, you have more time on your hands than you did in the past. But you still might have a certain length of time in mind. If you want to try a short cruise for your first adventure, you can choose a three or four-day cruise. If you want to cross the ocean, you will likely be looking at a two or three week long trip.
What Time of Year Do You Want?
Cruises are generally cheaper in the spring or fall, but if you want to go somewhere warm in the winter or somewhere cool in the summer, keep those seasonal aspects in mind as well.
What Destination Do You Desire?
Have you always wanted to see the glaciers in Alaska or do you want to admire the beaches in Jamaica? Decide on your dream destination and then find the perfect cruise to match.
What Type of Cabin Do You Want?
Your cabin style and size might be determined by how much you are able to spend. You might want to save money on your cabin so you can spend more on shopping and other excursions. Or maybe you'd like to go all out on the cabins and enjoy more time on the ship.
How Will You Get to the Ship?
Look at where the cruise ships launches and decide how you will get to the ship. If you live near a ship docking point, you can simply drive to the port. Otherwise, you may have to fly to the right location and that will add to your costs.
There are a lot of details that go into planning a cruise, but once you leave your luxury retirement community behind you and are enjoying the sea and sun you probably won't be able to wait to start planning your next cruise vacation.