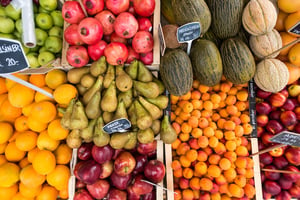 When it comes to locally grown Florida produce and handcrafted items, look no further than the farmers markets of Sarasota. The city is home to multiple farmers markets that draw thousands every year. While some are year-round, with others operating on a seasonal schedule, the markets feature the best of Florida's agricultural products and artisan crafted items. Here are just a few of Sarasota's popular farmers markets:
Related Blog: 10 Great Activities for People with Dementia
Sarasota Farmers Market
This Saturday event, held year-round in downtown Sarasota, is your go-to place for all things homegrown and locally made. The Sarasota Farmers Market features the products of more than 70 vendors. The popularity of the market ranks it in the top 5 percent nationally with an average weekly attendance of 10,000 visitors. The market offers a wide range of locally made products from locally grown produce to handcrafted soaps and baskets.
Live music and children's activities are just a part of the many events at the market.
The Sarasota Farmers Market serves as a community gathering place and Southern Living magazine recognized the market as one of Florida's number one farmers markets. The market is open every Saturday from 7 a.m. until 1 p.m.
The market's organizers recently expanded the market to include a Thursday evening event. The Rosemary Sunset Market at CitySide recently operated from 5 p.m. - 8 p.m. for eight Thursdays, beginning in February. Sarasota residents interested in visiting the evening market should check the market's website for information about future dates.
Phillippi Farmhouse Market
Every Wednesday from 10 a.m. until 2 p.m. during the months of October-April, you'll find more than 50 vendors at this popular market. Managed by the Friends of Sarasota County Parks, the team consists of volunteers who work hard to make the Phillippi Farmhouse Market fun for all ages. Visitors can browse and purchase locally grown produce and specially crafted products made by local artisans. Proceeds from the market are donated toward the renovation of the historic Keith farmhouse located on the property.
Myakka Farm Market
Located halfway between Arcadia and Sarasota is the Myakka Farm Market. The market is housed in a brown, warehouse style building and visitors can find locally grown produce and other local items.
The farm market is family-owned and shares the property with Susy Q's, a long-established, home-cooking restaurant.
Fresh Produce and Unique Products
Sarasota farmers markets showcase the best of Florida agriculture and the talents of Florida artisans. Making healthier dining choices and choosing special gifts for your loved ones are just part of the allure of farmers markets which also usually have live music and children's activities—a great option for visiting grandchildren.
Florida produce is more than oranges and grapefruits. It's sweet corn, tomatoes, and snap beans. In fact, Florida ranks second in the nation in vegetable production, just behind California. The state is also second in the nation for greenhouse and nursery production.
Sarasota Bay Club: An Invitation to Visit
Health and wellness is an important part of your retirement living. At the Sarasota Bay Club, we offer a wide variety of opportunities to keep you physically, socially, emotionally, and spiritually active. Our luxury retirement living along the bay, along with our vast amenities, make us a popular choice for retirees seeking a new home in Sarasota. Come see why by scheduling a personal tour today.
The local farmers markets are just a part of what makes our community a great place to live. Not only do you support local farmers and artists, but you also get to enjoy the fruits of their labor. If enjoying life along the water and the opportunity to buy country grown produce is appealing to you, contact us.