While fruits and vegetables are always a delicious and healthy choice, sometimes it's a challenge to figure out what options are best. What fruits are healthiest for senior living? And what vegetables are healthiest, providing the most important nutrients? Here are some of the best choices to diversify your meals.
Related Blog: Socializing and Getting More Sleep Can Help Keep Your Brain Healthy


What are the Most Nutritious Fruits and Veggies to Add to Your Diet?
Leafy Greens
Leafy greens like spinach, kale, dandelion greens and arugula are a great accompaniment to many meals. Packed with micronutrients like folate, vitamins A, K, E, calcium and potassium among others, greens are a great nutritional staple to protect against inflammation and associated diseases. Likewise, they are full of fiber, a key component to digestive health, which is critical to a high sense of well-being.


Blueberries
Considered one of the healthiest fruits, blueberries are also delicious! Thanks to their density of antioxidants, they are known to help reduce cell damage. Thus, they provide a staunch defense against cardiovascular disease, as well as potential neuroprotective benefits that may improve cognition. Plus, they're a versatile addition to a wide variety of dishes, from oatmeal to salad, and many things in between.


Carrots
Great for a crunchy snack or cooked in a meal, carrots are delicious in any form. Known for their high concentration of vitamin A, they can potentially help stave off vision issues like glaucoma and cataracts. They have also been linked to a lower risk of coronary heart disease, as well as boasting a variety of healthy phytonutrients that deter cell damage. Don't miss an opportunity to add these rich, colorful root vegetables as a complement to your healthy diet.


Bananas
Bananas are often associated with athletes thanks to their various nutritional elements, but they are a great option for everyone. Packed full of potassium, bananas also boast fiber, vitamin C and magnesium. They can help balance cardiovascular health, and bananas are also considered an important aspect of a bland diet for those having any sort of digestive issues. Moreover, they're a tasty and enjoyable snack to boost energy and stay active.


Red, Orange and Yellow Bell Peppers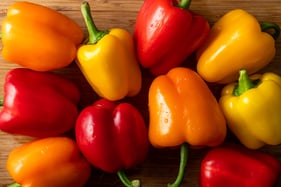 Colorful and nourishing, red, orange, and yellow bell peppers are another great source of vitamin C and vitamin A. Thanks to their density of antioxidants, they offer an array of potential protective benefits against various ailments. Interestingly, they are also high in water content, helping one to feel full for longer. Great to add to many dishes, bell peppers are delicious both raw and cooked.


Pomegranate
A distinctive fruit known for its delicious seeds, pomegranate boasts a serious health profile. Another fruit full of antioxidants, pomegranate helps deter cell damage by fighting the effects of free radicals. Given that they are a good source of vitamin C, folate, and vitamin K, scientists are taken by this powerful fruit. In fact, they are investigating its link to prevention in a variety of health conditions. This tasty treat can't be beaten as a snack, side, or even as the trimming to a main dish.
---
There are lots of great ways to incorporate these healthy fruits and vegetables into your diet, whether you like to cook for yourself, enjoy takeout or restaurant dining, or partake in some of the great options we provide in-house at the Sarasota Bay Club. Contact us today to schedule a private tour and experience it for yourself.