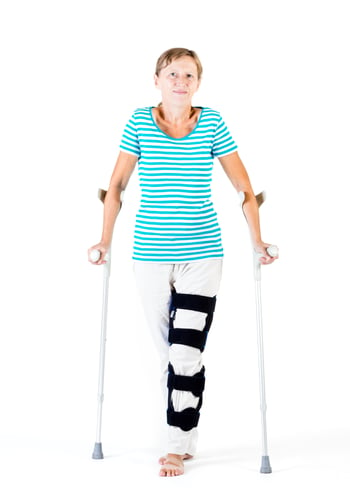 In order to recover fully from knee replacement surgery, it is essential that you take the rehabilitation process seriously. Along with performing all of the exercises prescribed by your physical therapist, you must go to all of your follow-up appointments with your doctor and take medications as prescribed. Here are some tips for ensuring that recovery from knee replacement surgery goes smoothly:
Related Blog: How You Can Prevent Heart Disease in Your Senior Years

1. Work on Extending and Flexing the Leg
During recovery, your leg should be bent and straightened as much as possible. One way to work on this is to sit in a chair and bring your foot back under the seat of the chair. The physical therapist may also recommend continued use of a continuous passive motion machine.

2. Pay Attention to Nutrition
In particular, it is important to take the correct vitamins and supplements to aid recovery. Iron can help to replenish your blood count and making sure that you have sufficient levels of vitamin D is also important. It may also be a good idea to find out about supplements to help with muscle recovery.

3. Ice the Knee
Ice can help to ease inflammation and pain. Icing your knee and will be helpful for the first few days after knee replacement surgery. After the initial swelling has subsided, relax your muscles and get rid of stiffness with the application of ice and heat to your knee.

4. Use Compression Stockings
There is a risk of blood clots during the recovery process and wearing compression stockings can help. If the doctor suggests wearing them, it is important that they be kept on while you are lying down. They should be worn until the doctor says that it okay to stop.

5. No Strenuous Activities
Any activities that could excessively stress the knee should be avoided as these may cause damage. Along with avoiding heavy lifting, you should be careful how you turn to change direction. You should turn with your entire body, not with your knees. Additionally, you should be careful about actions like bending and sitting.

Note that this is not a substitute for anything your doctor or physical therapist advises or directs you to do. Be sure to consult with them and follow their instructions completely to make sure you heal as quickly as possible.

A senior living environment can ensure that you get the care you need after undergoing surgery. This includes getting you to your appointments and ensuring that you take your medications at the right time and in the correct dosage. Contact us at Sarasota Bay Club to see how our community could be right for you.