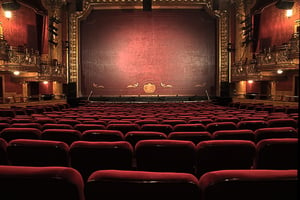 When it comes to celebrating the arts in Florida, the theatre community of Sarasota has you covered. From musical productions to performances of favorite plays such as The Music Man, you'll enjoy the professional and amateur talent the area has to offer. Here are just a few examples of local theatres:

Related Blog: 5 Places to Go in Sarasota to Experience to Experience Arts and Culture
Florida Studio Theater
Located in the heart of downtown, the Florida Studio Theatre is best described as a village of theaters, including:
The historic Keating and Gompertz Theaters

The Parisian-style Goldstein and John C. Court Cabarets

Bowne's Lab Theatre
The Florida Studio Theater also offers a children's theatre featuring such productions as Peter Pan and Snow White. On Saturday nights, area residents enjoy plenty of laughs at the Improv, held in the Bowne's Lab Theatre.
Florida Studio Theatre has a partnership with iTN (Independent Transportation Network) Suncoast, which provides transportation for those who cannot drive. iTN is especially helpful to the elderly and people with special needs as they offer special assistance getting in and out of the car. Theatre patrons do not have to pay a membership fee for this service.
The Players Centre for Performing Arts
If you enjoy community theatre, then The Players Centre for Performing Arts is the entertainment venue for you. Enriched with a strong talent pool, half of the centre's volunteers have been, at one time, professionally paid performers. The centre occasionally adds professional performers to the mix, enhancing the experience for both community volunteers and the audience.
If you've been bitten by the acting bug, the centre encourages you to sign up for one of their many classes or workshops. Whether you've always wanted to dance or sing on stage or learn about stage makeup, here's your chance. All classes are held at the new Arnold Simonsen Players Studio.
Asolo Repertory Theatre
The Asolo Center for Performing Arts is home to the Mertz Theatre and its spectacular interior. In late 1980's, the Dunfermline Opera House in Scotland was purchased and reconstructed in the Asolo Center. In addition to the beautiful interior, the center presents plays and musicals, staging up to 15 productions every season. It is the largest not-for-profit theatre in the U.S. south of Atlanta.
McCurdy's Comedy Theatre and Humor Institute
Entertaining audiences since 1988, this popular theatre showcases some of the region's, and the country's, best comedians. If you're in need of a good laugh, McCurdy's Comedy Theatre and Humor Institute offers state-of-the-art technology and close proximity to the stage.
Celebrating the Arts in Sarasota
There are multiple opportunities for enjoying the arts in Sarasota. In addition to the theaters listed above, there are also many great concert and performing arts venues. You can even try your hand at your own singing, dancing, or acting, either by taking a class or by volunteering at the community theatre.
The Sarasota Bay Club
At the Sarasota Bay Club, we believe in the "Art of Living." This means that we develop and support events and programs that help our members physically, socially, emotionally, and spiritually. We believe in offering member opportunities to be actively engaged in life. To learn more about our luxury retirement living, membership, and amenities, contact us today to schedule your own personal tour. You'll find our staff professional and friendly, and the Sarasota community vibrant and exciting.
The Sarasota Bay Club offers healthy dining options, a wellness center, and an in-house home health agency. There is also a doctor with on-site office hours and a Community Nurse. Learn more about us by reaching out today.
To learn more about the local performing arts scene in Sarasota, explore the Visit Sarasota website for a complete listing of venues.