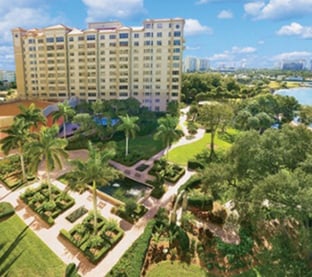 Choosing a retirement community that is best for you is an important step. Here are the 10 most common questions people ask about our retirement community in Sarasota, Florida:
Related Blog: Start the Best Times of Your Retired Years at Sarasota Bay Club

1. I don't see any prices for your condos, can you tell me what the cost is?
A: The prices of the condos vary based on size and location. The ones closer to the water or higher in the building are more expensive because they have better water views. Based on size, they range from $400,000 to $1,400,000


2. What is the difference between you and a typical CCRC (Continuing Care Retirement Community)?
A: Because people buy their condominium at Sarasota Bay Club it becomes part of their investment portfolio. The return on their investment depends on which purchase option is chosen.


3. Do I have to eat in the dining room every night?
A: No. A meal plan is optional so anyone who does not have a meal plan can eat in the dining room a la carte .

4. What's the food like?
A: Delicious and fresh. Our salmon is flown in from Scotland and always fresh.

5. Is there an additional charge for resident parking?
A: Each resident receives on parking space at no charge.

6. Do you provide transportation?
A: Yes, some is at no charge and personal transportation can be provided with a monthly fee or per-trip.

7. Is there extra storage space I can use?
A: Yes, every condominium has a climate-controlled storage locker.

8. Do you help with moving?
A: We certainly assist with the process but the cost is covered by the buyer.

9. Do you have guest rooms?
A: Yes, we have two large guest rooms. They have two bedrooms, 2.5 baths, a den, full kitchen and laundry.

10. Are your residents friendly?
A: Yes, our residents love to welcome new people to our community.
To learn more about our community or to schedule a visit please contact us and we will be happy to help.