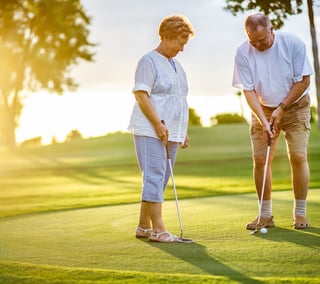 Not all retirement communities are the same, and choosing the one that best suits your needs and lifestyle is important. The best places to retire should include activities, reduce burdens and responsibilities, and provide you with the care you need. Understanding some of the senior living options available will show you why Sarasota Bay Club is an excellent choice.
Related Blog: How to Maintain Your Luxury Lifestyle in a Sarasota Retirement Community
Convenient Location
Located on the Sarasota Bay, Sarasota Bay Club has everything an active senior is looking for. If you choose to go out for the day, we are only minutes from shopping, dining, and exciting activities or cultural experiences. Or you could stay home and still have access to everything you could expect from a high-end resort community.
Luxurious Amenities
There are many things for residents to do at Sarasota Bay Club. Active seniors are free to take part in something different every day, or simply stay home and enjoy a good show or movie. In addition to the perks you expect from luxury accommodations, possibilities to fill your day include:
Heated Pool and Spa
Complete Lounge and Dining Options
Fitness Center
Game Rooms
Local Area Salons and Shopping
Full Service Living
We are a complete assisted living community, and our services are unmatched. Whether you require physical therapy, or simply prefer the benefits of home maintenance being taken care of for you, we have you covered. Emergency assistance is only a phone call away, and medical staff is always available, day or night. We believe that retirement communities should offer everything from social interaction to medical services, and we have blended it all into a superb environment for living life to its fullest.
Carefree Living
Relax and enjoy life at Sarasota Bay Club. All cable, water, and other home-related expenses are included, leaving you with the time to do more and enjoy socializing with friends. We even offer transportation to local businesses and malls, cultural events, and other nearby locations. Put on a nice outfit, team up with a friend, and go out for a day of shopping or experience the local art shows. Retirement is your chance to enjoy life, so put your worries away and go have some fun.
Safe and Friendly Environment
Living at Sarasota Bay Club offers peace of mind. Not only will you have medical attention available when you need it, but you will also have the comfort of living in a community safe for you to move about in. Living here is like having a quiet park at your disposal whenever you want to take a stroll, with cleanliness and safety kept to the highest standards available. Living in a managed community is the perfect way to relax and spend some time with others.
Designed for Senior Living
Everything about the Sarasota Bay Club is designed to give seniors more comfort, more safety, and more opportunity to enjoy life. Mingling with your peers is encouraged, and ample opportunities for exciting activities are everywhere. From enjoying a good book in the library or playing a game of billiards, to hosting a private dinner or party for friends and relatives, everything is available for your benefit. With an entire community designed to make life more exciting, there is always something to do and people to do it with.

Luxurious senior living in Sarasota has never been easier. We have multiple floorplans to choose from, and more amenities than you will find in resort hotels. Sarasota Bay Club is at the top of its class, and our staff is both courteous and competent. Our lifestyle options are amazing, but they are something you should witness for yourself. To do that, stop by and and take a stroll around the campus, or schedule an appointment to learn more about the services available.