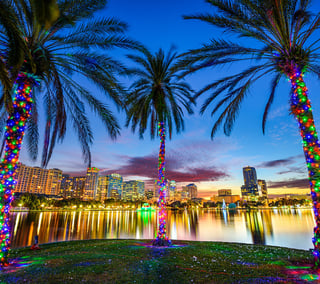 The holiday season brings joy and festivities to residents of the Sarasota community. The city's warm holiday weather makes it possible for Sarasota to hold a number of joyous holiday events that take place over the month of December. Thanks to Sarasota's large artistic and retirement communities, Sarasota holiday events are unique and suitable for adults of retirement age. Loved ones will also love coming along to celebrate the holiday season.
Related Blog: Enjoy the Holidays While Visiting Your Loved One at Sarasota Bay Club


1. Attend a Holiday Parade
Sarasota Holiday Parade
Sarasota's annual holiday parade gets the season started in early December, and many Sarasota residents consider the annual holiday parade the season's must-attend event. The parade has a different theme every year, and thousands of local participants decorate floats in a bid to win one of the annual float contests. Attendees are welcome to bring lawn chairs, so come early to get a great seat!
Manatee River Holiday Boat Parade
Watch over two dozen gorgeous, unbelievably decorated holiday boats parade through the water. A great place to view the parade is at Centennial Park. Bring blankets and a lawn chair to watch comfortably in some of Florida's cooler weather.
December 25: Pinecraft Christmas Parade
For something to do on Christmas Day, watch this annual event held by the Mennonite and Amish communities in Pinecraft Village. This is a fun event with many unusual, yet entertaining floats.


2. Peruse Special Gifts at Craft Fairs
Sarasota American Fine Craft Show
This annual craft show brings fine artistic pieces, such as jewelry, ceramics, wood, and leather made by talented vendors. Artists are carefully selected by a jury looking for the finest work. Get great gifts for family or buy yourself a treat.
Gem, Jewelry, and Bead Show
Explore fine quality gems, crystals, beads, and jewelry for the person in your life who deserves the finest quality jewels for the holidays.
Atomic Holiday Bazaar XII
This indie craft fair showcases charming wares by the local independent arts community in Sarasota. The fair is so large it extends to three separate spaces, so you're sure to find something for your entire gift list here. Come early for coupons and free gifts.


3. Watch Delightful Holiday Shows
Singing Christmas Tree
Treat your eyes and ears to a stunning concert featuring thousands of lights and over 100 singers performing holiday favorites by a massive Christmas tree. The production also includes theatrical performances.
Ditchfields Christmas Joy
Enjoy a sophisticated holiday musical performance at the Sarasota Opera House with a concert featuring the Ditchfield Family Singers. Listen to this talented family perform favorites of the season, and a few unexpected surprises.


4. Take Part in Festivals
Select December Evenings: Holiday Lights Spectacular
Every year for the holidays, Sarasota Jungle Gardens makes an incredible transformation into a holiday light paradise. Go for a stroll along the lit paths, and don't forget to make a visit to Candy Cane Village. The event has musical performances, campfires with s'mores, and other fun activities.
December 15-17: Gingerbread House Festival
Groups local to the Sarasota area make over 150 gingerbread houses that are a must-see this holiday season. Come and view these local works of art, or if you're feeling especially motivated, create and display a gingerbread house you made at the display.
December 17: Taste of Chanukah Israel Style
Celebrate Chanukah at this annual holiday festival. There will be live music and performances taking place throughout the day, kosher food, snacks, a variety of activities, and an opportunity to go for a ride on the special Tel Aviv Train.
Fun in Sarasota isn't limited to the holiday season. Sarasota's active and lively community has events taking place throughout the year that are fun for adults of all ages. If you'd like to hear more about the vibrant lifestyle retirees can live in Sarasota, get in touch today.