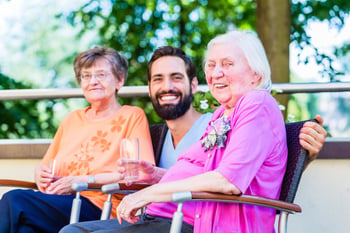 Are you looking for a senior living community that will be the perfect fit for many years to come? You have plenty of options, but not every option offers you an exceptional place for you to enjoy your post-retirement life.
Related Blog: What To Take When Moving to an Assisted Living Community

Here are nine reasons to move to our luxury senior living community in Sarasota, Florida:

1. Community
When you're looking for the right senior living community, the key word is "community." At Sarasota Bay Club, everyone is invited to make new friends, and it's pretty easy to do with such an awesome array of interests and personalities.

2. Activities
You want a place where activities are available throughout the week. You don't have to participate, but it's always nice to have the opportunity available to you.

3. Healthcare
Accidents happen, and as we age, they can become more troublesome. A senior living community with onsite medical care can help eliminate the worries that result from being far away from doctors, nurses, and rehabilitation specialists.

4. Food
Meals shouldn't just be necessary; they should be enjoyable. A community that's complemented by nutritious and delicious meals will always be more enjoyable than one that simply puts food on a plate.

5. Proximity to Other Activities
You should never feel confined to your community. You need to be free to explore the area around you, but that's much easier to do when you're close to shopping, dining, and entertainment options.

6. Floor Plan Options
If you've looked at cookie-cutter places, you already know how frustrating it can be to imagine yourself living in a place that's designed as a one-size-fits-all entity. SBC offers plenty of floor plans to accommodate many residents' needs.

7. Pricing Plans
A community that offers a variety of pricing plans ensures that your budget is always kept in balance. Look for a neighborhood with plenty of options so you can choose the plan that's perfect for your unique needs.

8. Staff
You want to live where the staff wants to work. The right community will afford you friendly, professional, and experienced staffers who are happy to service your needs.

9. Fitness Facilities
It's important to keep your mind and body fit. A great community will afford you facilities to embrace overall fitness.

You should hear what the residents of our senior living community have to say about Sarasota Bay Club! Check out some of our residents' testimonials!